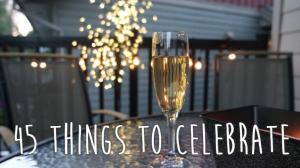 It's birthday time and with that comes reflection. Looking back on what I have accomplished in the past year. Looking forward to what I hope to achieve in the next year. And most importantly, being present in this current moment with gratitude. Pausing for a moment to celebrate all of my beautiful blessings.
Last night I celebrated with some of my dearest friends and I am left in awe.  I am so lucky I am to be surrounded by such loving, intelligent, creative and inspiring girlfriends!
So cheers to 45!
Here are 45 things I have to celebrate – right now as I start my new year:
My daughter who was the first to change my life forever and bless me with my most precious title "mom." She is a beautiful, intuitive and compassionate earth angel.
My son, who proved to me there is at least one perfect man on this earth – lol! He is so intelligent, creative and social and takes such good care of his mom.
My mom. She is truly one of my biggest supporters and now that I am a mom I know how much she deeply loves me.
My friends. A girl could not ask for better friends. Seriously!
Bessie – my daughters grey tabby cat. Our lovey number one.
Maggie – my son's newly adopted calico cat. She sure knows how to snuggle.
The YOU GLOW GIRL! Community that has grown from 233 members last July to 1135 today!
Dance – my daughters dance family. Self-esteem. Sisterhood. Community.
Hockey – my son's favourite thing. Passion. Hard work. Commitment. Team.
The Ocean and the fact that I can get to it at anytime in just 10 minutes.
Living in one of the most beautiful places in Canada. Green. Blue. Mountains. Ocean.
A warm, comfortable home where my family feels safe and my friends feel welcome.
The education my children are receiving and the great teachers that see their strengths and help them grow
Freedom.
Health.
Being an entrepreneur.
The ideas that keep coming.
Getting to a point where I know failure is an inevitable part of success.
The opportunity to follow my soul's purpose.
My amazing clients and the trust they have in me.
The people who help make me look good – my trainer, my hair stylist, my medical esthetician, my make-up artist…who are all friends! It takes a village!
The people who help me grow and become a better person through reiki, access consciousness and energy healing.
My tribe of entrepreneurs for their wisdom, support and knowing what this experience is all about.
B-School – I feel so fortunate to have had this opportunity this year!
My B-School Mastermind Group back at home. For the constant support, ideas and accountability.
Glow Leadership
Elevate LOVE….coming soon!
The ability to positively and amicably co-parent my children with their father.
Good chocolate.
Good wine.
My intuition growing and expanding daily and the ability to now help others with readings.
The ability to feel things on a deep expanded level.
Facebook for connecting and reconnecting me to old and new friends.
Role models like Kate Northrup, Danielle LaPorte, Kari Samuels …for showing me what the business I desire looks like. I am going to be like them when I grow up!
Astrology and Numerology….for providing some guidance and understanding of why things are the way they are and what is coming.
Downton Abbey – because it is just SO darn good!!!!
My Angels – for being around me all the time and always, without a doubt showing your presence whenever I ask.
Champagne, strawberries and triple creamed Brie!
Summer trips and amazing opportunities to look forward to.
An exciting opportunity to be involved with an AMAZING charitable organization in a meaningful way.
The understanding that love and connection is not limited by the lack of physical presence.
Trust that the future is only going to be brighter.
Hope that every human being on this planet feels loved.
Faith that we are all becoming more conscious and things are improving individually and globally, each and every day.
Love. My heart is full on my 45th birthday and I am so grateful for all the wonderful blessings in my life.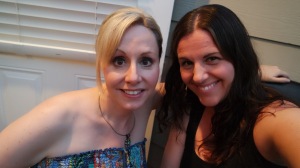 Photo Credits: My dear friend Scarlett Ballantyne – who is missing from the group shot as she was taking it!
What are YOU most grateful for today? I would LOVE to hear. Share in the comments below.